Ukraine – Russia : Stories of Resistance | Between Us
by Becky
published on 25th April 2022
As millions flee Ukraine to escape Russian attacks, what about those who stayed behind? Al Jazeera's Stefanie Dekker travelled to southern Ukraine to hear stories of resistance.
Up Next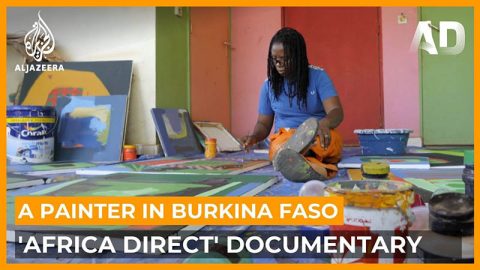 Artist Adjaratou Ouédraogo is more famous abroad than at home in Ouagadougou, Burkina Faso. In The Painter, by filmmaker Ousmane Zoromé Samassékou, she organises a street art event called "My City In Painting" to encourage locals to celebrate and participate in art. In this thoughtful, immersive film we also see her at work in her studio while she contemplates her craft and shares the story of how she found her voice and her happiness through painting.
Related Videos
Al Jazeera Close Up. As one of a few female mental health professionals in Syria's Idlib province, Abeer al-Faris has her work cut out for her. Every day, she gets up at the crack of dawn to manage the Dar al-Amal Education Village, an independent care centre for widows and orphans of war.